African International Economic Law Network 
(AfIELN)
Gerald Ndobya Introduction On Thursday, 23 July 2021, the African International Economic Law Network, in partnership…
Abigail Nthuba and Nicola Soekoe I. Public Health and Intellectual Property "Our ability to transcend…
by Titilayo Adebola, Regis Simo and Kwaku Agyeman-Budu AfIELN 2023: In Conversation with Dr Regis…
(AfIELN Newsletter. Issue 1, 2023) As the theme for the forthcoming 6th Biennial Conference of…
The objective of the African International Economic Law Network (AfIELN) is "to serve as a…
Transcending Member States: Political and Legal Dynamics of Building Continental Supranationalism in Africa
Focuses on the interrelationship between law and politics in the process of continental integration in Africa.
Addresses three interrelated dynamics that will enhance the supranational powers of the African Union.
Introduces the three contextual elements that should be used to guide the supranational assessment of the African Union.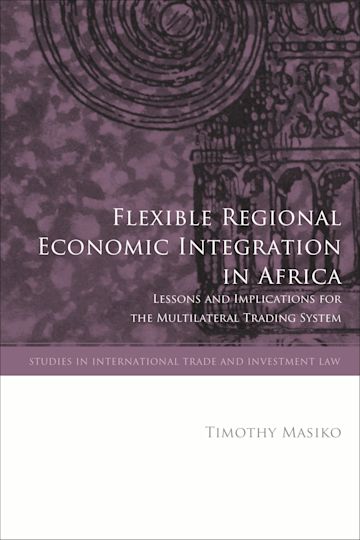 Flexible Regional Economic Integration in Africa: Lessons and Implications for the Multilateral Trading System
This book is a historical evaluation of regional economic integration efforts in Africa and it follows the path of attempts to integrate the economies on the continent from colonial times to the birth of the AfCFTA. While it is a study in law, it relies heavily on politics, economics and history to weave together a more complete theory of economic integration based on the African experience.
Flexible Regional Economic Integration in Africa was awarded the 2020 SIEL–Hart Prize in International Economic Law.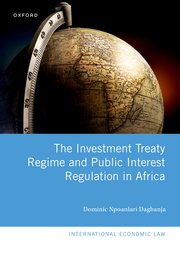 The Investment Treaty Regime and Public Interest Regulation in Africa
Explores the question of whether African states that are legally required to act both under the terms of their constitutions and in the public interest have the capacity to conclude investment treaties that expressly prevent the exercise of their regulatory authority.
Addresses the limitations placed on the regulatory autonomy of states by investment treaties through a critical analysis of the competence of African states to conclude these treaties.
Fills a gap in international investment law scholarship on Africa, and the legal status of investment treaties and investor-state arbitration.
The African International Economic Law Network (AfIELN) will hold its 6th Biennial Conference, which will…
Co-sponsored by the African Society of International Law, African Association of International Law, Afronomicslaw.org, and…